Details
With the 3Sixty Pour performing up to 24 hours hot or 50 hours cold, you have no excuse but to keep the adventure rolling. We've not only mastered the temperature retention but we also bring you a 360 degree pour spout interface that provides a smooth stream of liquids from any side. For on-the-go convenience, the easy, half-turn knob allows for easy pouring from any angle. When securely closed, enjoy the peace of mind of a leak proof bottle so you can savor every last drop. The insulated lid also duos as cup and the double wall vacuum insulated 18/8 stainless steel body keeps cool to the touch with hot, and is sweat-proof with cold liquids.
Features:
Vacuum-insulation keeps beverages hot for up to 24 hours or cold for up to 50 hours
360 degree pour spout interface allows for a smooth pour at every angle
Leak and spill proof lid with a half-turn valve for easy opening
Double wall cup to keep beverages at the perfect temperature while on the go
Exclusive, patent-pending, base design grips table tops and reduces clanking
Interchangeable components
100% BPA-free
Volume: 40 oz.
Interchangeable Compatibility:
Body and lid parts are interchangeable with the below 18/8 Capacitor™ Stainless steel products
3Sixty Pour Thermal Bottle (24oz & 40oz)
ReCharge AUTOSEAL® Travel Mug (17oz & 20oz)
FreeFlow AUTOSEAL® Stainless Water Bottle (24oz & 40oz)
Fuse Stainless Water Bottle (24oz & 40oz)
Additional Information
| | |
| --- | --- |
| Volume | 40 oz. |
| Is Exclusive | N/A |
| Is Flash Sale | N/A |
| Deal of the Day | N/A |
| Bogo | N/A |
| Promo Badge | N/A |
| Price | $36.99 |
| Learn More | N/A |
| Width | 4" |
| Height | 12.625" |
| Body Material | Stainless Steel |
| Insulation, Heat | Up to 24 hours hot |
| Insulation, Cold | Up to 50 hours cold |
| AUTOSEAL® lid | No |
| AUTOSPOUT® lid | No |
| Carrying Clip | No |
| Button Lock | No |
| Top-rack dishwasher safe body | No |
| Top-rack dishwasher safe lid | No |
Review Summary

1 Reviews





By Phillip

I've been waiting for Avex to come out with a thermos for awhile now. I've had your mug for years and its one of the most dependable products I own. Excited to take this on my backpacking trips!



Care & Use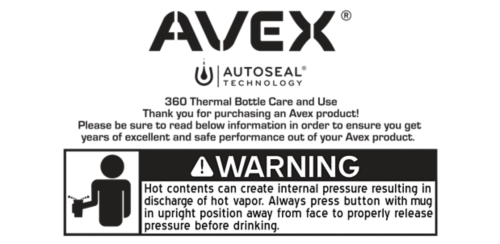 WARNING:
Careful. Hot beverages in this container stay hot for hours. For best results always use caution and point cap away
from your face when opening.
Keep out of reach of children when filled with hot liquids.
DO NOT overfill with hot liquids. Do not fill beyond wide bottom bump. Overfilling can cause leaks, spills and scalding.
TO prevent spills, ensure stopper and pour collar are assembled properly and fully tightened before use.
NEVER use PRODUCT with only the drink cup INSTALLED, without internal stopper. THE DRINK Cup alone
IS NOT LEAK-PROOF.
DO NOT use in a microwave or freeze.
Do not use cleaners containing bleach, chlorine or other abrasives and/or other harsh chemicals.
USE OF YOUR NEW PRODUCT:
Wash all parts thoroughly before first use. Stopper is dishwasher safe, cups and body should be hand washed only.
TO FILL:
Unscrew the lid assembly and remove completely. Fill to just below lower bottom bump. Screw lid assembly back on.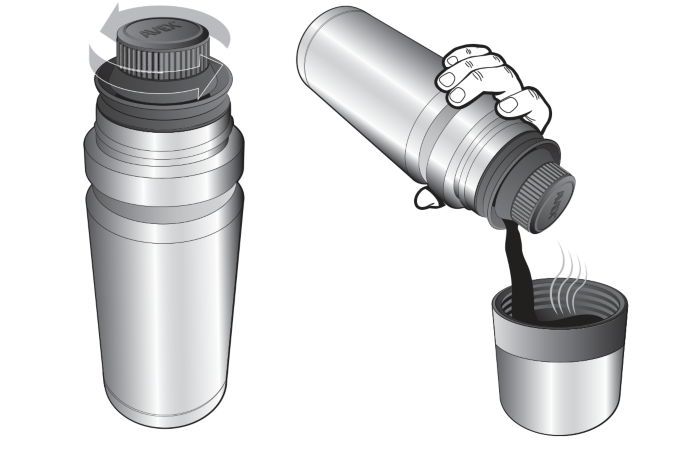 TO REMOVE/DISASSEMBLE THE LID ASSEMBLY FOR CLEANING: Continue unscrewing the stopper cap past the half turn until you feel
the stopper come loose, remove the stopper. Then unscrew the pour collar and remove.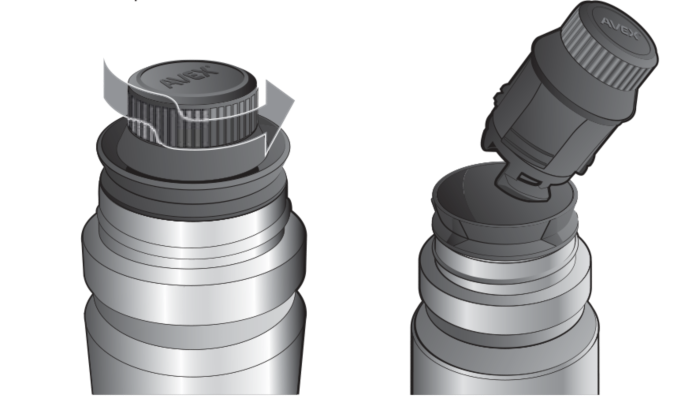 TO REASSEMBLE AFTER CLEANING:
1. Screw in the pour collar; 2. Screw in the plug, screw on the cap.

HANDWASH INSTRUCTIONS:
1. Fill with warm water and mild detergent
2. Let sit for 5-10 minutes
3. Wash with a soft cloth or sponge, for best results use Avex brushes
4. Rinse with warm water
5. Let air dry with the lid off.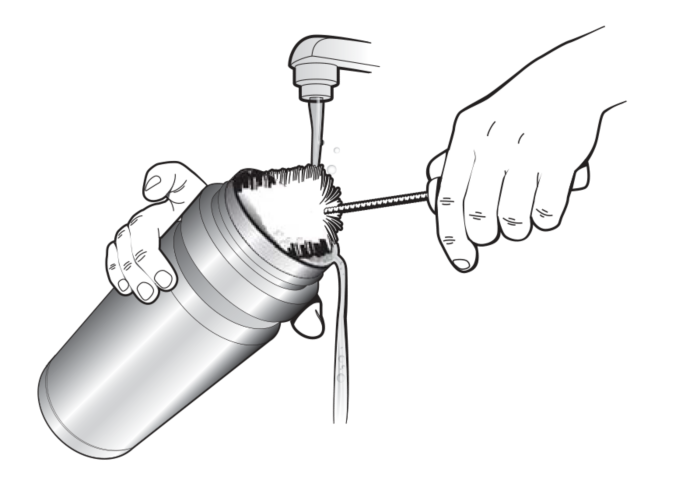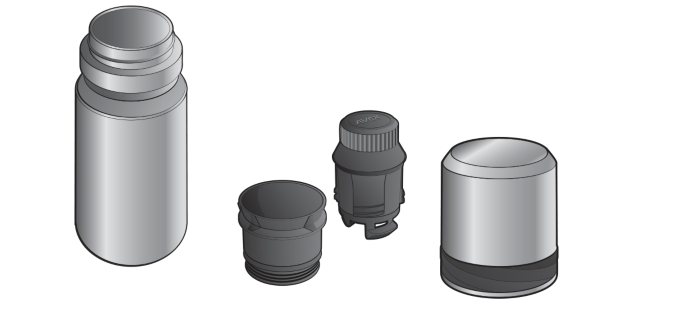 Lifetime Guarantee
AVEX Lifetime Guarantee
Water Bottles, Thermal Products, Replacement Lids
We are proud of the quality materials and reliable workmanship that goes into each AVEX product. We go to great lengths to create a truly superior product, but we also know that on occasion, things happen. As such, we back our products with the AVEX Lifetime Guarantee against any manufacturing defects in materials and workmanship. To learn more, check out our policy in detail by clicking here
Lifetime Guarantee