Details
With all of the features of our #1 selling Highland travel mug and more, the ReCharge AUTOSEAL® Capacitor™ Stainless steel travel mug was built with the same ruggedness in mind but with attentive improvements to make the adventure even more fun. This double wall vacuum-insulated tumbler is engineered with an airless space in between two walls to eliminate temperature change and keeps drinks hot for up to 8 hours or cold for up to 24 hours. The celebrated AUTOSEAL® lid automatically seals between drinks to eliminate spills and leaks, and the one-handed button operation makes on-the-go drinking a breeze. The built-in slide lock gives you reassurance the button will not accidentally engage, and the added spout cover keeps the drinking interface free of dirt and germs. A new and improved durable lid features a drop-down mechanism for easy cleaning and is dishwasher safe. What are you waiting for? Let the adventure begin!
Features:
Vacuum-insulation keeps beverages hot for up to 8 hours or cold for up to 24 hours
AUTOSEAL® button operated lid automatically seals between sips to eliminate spills and leaks
Slide lock prevents the AUTOSEAL button from accidentally being pushed while on-the-go
Drop-down mechanism underneath the lid for easy cleaning
Reservoir drinking interface for an improved drinking experience
Protective spout cover to keep out dirt and germs
Exclusive, patent-pending, dishwasher-safe base design grips table tops and reduces clanking
Sleek design fits most car cup holders
Top-rack dishwasher safe
Interchangeable components
100% BPA-free
Volume: 20oz
Interchangeable Compatibility:
Body and lid parts are interchangeable with the below 18/8 Capacitor™ Stainless steel products
ReCharge AUTOSEAL® Travel Mug (17oz & 20oz)
3Sixty Pour Thermal Bottle (24oz & 40oz)
FreeFlow AUTOSEAL® Stainless Water Bottle (24oz & 40oz)
Fuse Stainless Water Bottle (24oz & 40oz)
Additional Information
| | |
| --- | --- |
| Volume | 20 oz. |
| Is Exclusive | N/A |
| Is Flash Sale | N/A |
| Deal of the Day | N/A |
| Bogo | N/A |
| Promo Badge | N/A |
| Price | $29.99 |
| Learn More | N/A |
| Width | 3" |
| Height | 9.25" |
| Body Material | Stainless Steel |
| Insulation, Heat | Up to 8 hours hot |
| Insulation, Cold | Up to 24 hours cold |
| AUTOSEAL® lid | Yes |
| AUTOSPOUT® lid | No |
| Carrying Clip | No |
| Button Lock | Yes |
| Top-rack dishwasher safe body | Yes |
| Top-rack dishwasher safe lid | Yes |
Review Summary

1 Reviews





By Mark

This mug keeps my coffee hot all day and I've even had ice stay in there for hours at a time. I like the lock on the button too - keeps my mind at ease and worry free of spills when I toss it in my bag. Very durable and functional.



Care & Use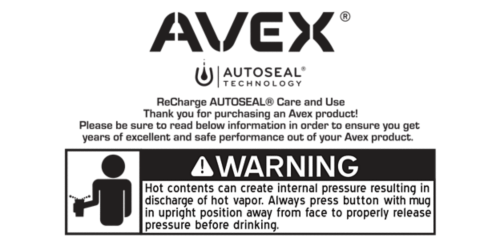 WARNING:
Careful. Hot beverages in this container stay hot for hours. For best results always use caution.
Keep out of reach of children when filled with hot liquids.
DO NOT use in a microwave or freeze.
Do not use cleaners containing bleach, chlorine or other abrasives and/or other harsh chemicals.
USE OF YOUR NEW PRODUCT:
Wash all parts thoroughly before first use. Lid is dishwasher safe, body should be hand washed only.
Prior to drinking always make sure the lid is properly threaded to the body and screwed down completely.
If filled with boiling liquid, allow liquid to cool down WITH THE LID OFF for at least 3 minutes before attaching the lid.
DO NOT overfill. Fill the liquids to the internal lid ring visible in the bottle neck only.
TO USE:

Always press button with
mug in upright position
away from face to release
pressure before drinking
With button pressed,
tilt mug to drink
Release button to seal
| | |
| --- | --- |
| USING THE LOCK: Avex Recharge is equipped with bolt lock to prevent accidental pressing of button during transport. Press in to lock, press in on the other side to unlock. | |
| | |
| --- | --- |
| | Press in to lock, press in on the other side to unlock. |
CLEANING:
Take off the lid and push on the lid tab to open the lid. Insert lid and body into the dishwasher or hand wash.
Fill with warm water and mild detergent
Let sit for 5-10 minutes
Wash with a soft cloth or sponge, for best results use Avex brushes
Rinse with warm water
Let dry with the lid off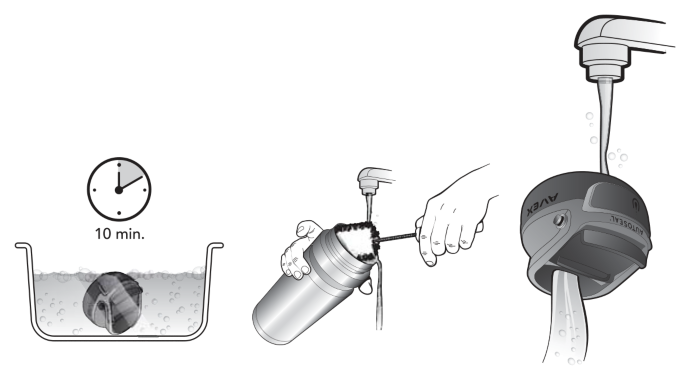 TO REASSEMBLE AFTER CLEANING: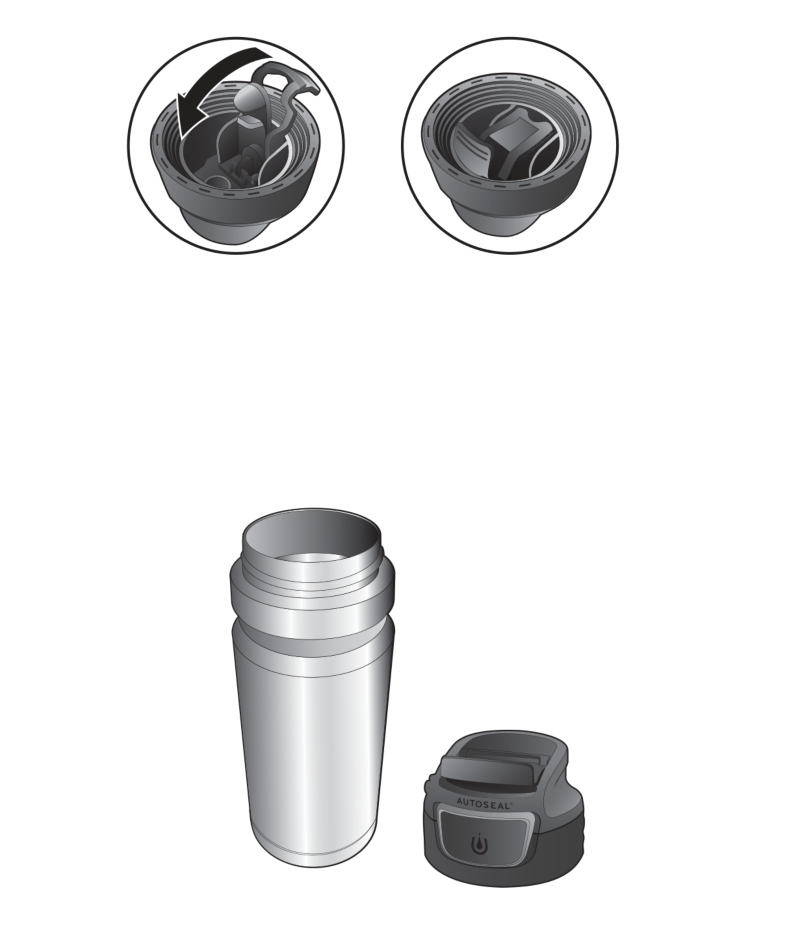 Lifetime Guarantee
AVEX Lifetime Guarantee
Water Bottles, Thermal Products, Replacement Lids
We are proud of the quality materials and reliable workmanship that goes into each AVEX product. We go to great lengths to create a truly superior product, but we also know that on occasion, things happen. As such, we back our products with the AVEX Lifetime Guarantee against any manufacturing defects in materials and workmanship. To learn more, check out our policy in detail by clicking here
Lifetime Guarantee